A little bit about what we do.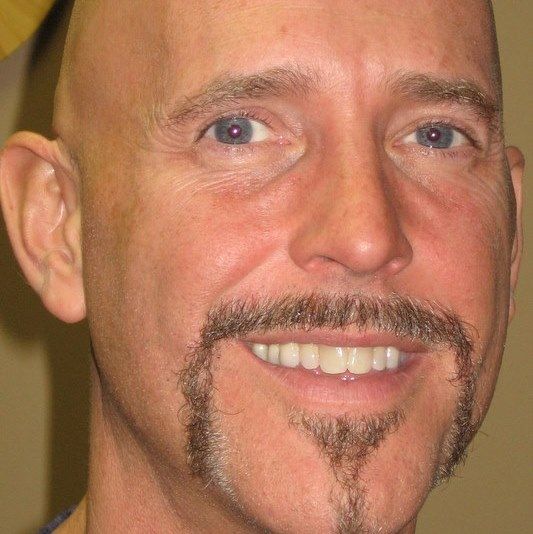 Dear friend,
My name is Joseph Hurtsellers. I'm the head teacher and owner of Ohio Martial Arts.
People come to our dojo for different reasons. Most people want practical self defense, fitness, and a more focused mind. But people usually have a clearer idea of what the DON'T want than what they do. Here are some of the things I've heard people say they don't want in a dojo over the years.
Maybe you can relate to some of these "don't wants".
You don't want a boring workout —Instead you want an engaging and structured approach.
Adults are tired of running endlessly on a treadmill. Kids don't want to stand around waiting for their turn. Our age appropriate classes are fun and you get a fantastic workout —but your mind is also engaged! You won't know how hard you are working until you start to see the pounds melting off! Our structured approach to fitness gets you involved and having a blast!
You don't want to feel intimidated —Instead you want to feel comfortable.
Feeling intimidated about studying martial arts is the biggest obstacle most people face. But the truth is; we've made making our students feel welcome our top priority.
"Before I came in I was intimidated. I was afraid I wouldn't fit in. But everyone here is so friendly."
— John Sholtz - Maumee Ohio
You don't want to get hurt —instead you want to learn in a safe, professional environment.
Safety is our top priority. We use the most expensive (and safest) mats in the world. We have a non competitive structured learning approach. Our classes are among the SAFEST activities you could ever do.
You don't want to compete against others. You have enough stress in your day already —our dojo is a place where you get rid of stress; not add more to your life!
We believe in "partners, never opponents." Our dojo is NOT competition centered; instead we are LEARNING centered. We stress cooperation NOT competition. We create a feeling of friendship and teamwork that makes you feel part of a community that helps you learn. and keeps you safe. You will learn quickly when everyone is on the same team!
Instead of competition; we focus on what you DO care about. We focus on fitness, practical self defense, and helping you create a more focus your mind.
You don't want to be embarrassed by expected to do things that are beyond your range of motion or athleticism.
Our specialty is working with students who might have some physical limitation! In the adult world; after your over 30 we know for sure you have some physical limitations. We take special pleasure in taking students who might struggle with other forms of fitness, and showing them step by step, how to succeed in our classes. We built our dojo from the ground up — not to meet the needs of the super athlete; but for the needs of the shy person who might have struggled with athletics in the past.
Kids don't want to be in an adult class. Adults don't want to be in a class with kids.
Kids and adults do martial arts for different reasons. Kids want fun, and parents want kids to develop lifestyle skills like focus, confidence and self esteem. Adults want fun too; but the also want fitness and practical street ready self defense (not to mention learning to focus). It is also vital to keep these groups separate. We always keep our kids and adult classes separate!
You don't want to learn things that might help you get a belt, but
WON'T

help you defend yourself!

Belts are not just a decoration. A belt represents the skills you have learned. Our job is to give you the skills you need to protect yourself and those you love in the real world.
You don't want just another version of the same old GYM.
We don't just focus on the physical, we will also teach you how to focus! Most people know the value of a focused mind. Your mind effects every area of life, your relationships, your finances, even your health. Your mind is the most important component in daily life.
You might never have to defend yourself in a real self defense situation, but you will use the power of a focus every day!
We love teaching the mental part of martial arts I've even written two books on the subject. Teaching our students how to use the power of focus might be the most special part of our dojo!
Thanks for your attention. I've listed just a few of the things that you might be looking for. But no matter what, I'm 100% certain martial arts can make your life better. People who never thought they were the "martial art type" are healthier, better looking, and feel safer than they ever have before. I see it every day.
If you are interested in learning more you can checkout our information about kids and teens; or information for adults above.
If your ready to get started just click over to my "getting started" page by hitting the button below. I'll show you exactly what to do to try us out.
I'm honored that you took the time to visit our site. Feel free to drop in and see me anytime!
Warm regards,
Joseph Hurtsellers - Sensei and Owner: Ohio Martial Arts
Where have all the dojos gone?
Have you seen a real dojo featured in a documentary or a movie and thought: "I wonder if something like this really exists?" These days it seems like there are more and more Martial Art "studios" but very few real dojos!
If you look around, you are left with two unfortunate choices; you are stuck with having to choose between a highly competitive gym; or a workout that is boring!
Our mission is to give you a great workout, teach you self defense; and do it all in an atmosphere of cooperation and trust.
Focus is Key
What makes this practice authentic is not just technique. The way a martial artist moves, breathes, and even thinks is what makes them special.
The name for this magical, invisible ingredient is "mindfulness". Without "mindfulness", martial arts is reduced to just another sport or activity. With "mindfulness", martial arts become a work of art.
What is Mindfulness?
Mindfulness happens when a student learns to place full attention on the present moment and let go of every unnecessary thought or action. The consequence of "mindfulness" in a dojo is an atmosphere where the students realize that the battle is always "within". When "mindfulness" is present, all of the need to compete with others or impose our will on others dissolves. The ego begins to melt, and a student learns to practice the art just for the art's sake. What you are left with is a culture of people helping each other to improve. We teach "mindfulness" in each of our classes, and it's this secret ingredient that makes our dojo unique.
But technique does matter...
(For an overview of our style click here.)
If it's technique you want; we've got plenty of that too! Movements that were held secret just a generation ago are now readily available to you! Skill sets from the arts of Karate, Kung Fu, Brazilian Jiu Jitsu, Muay Thai Kickboxing, Judo, Aikido, and more. These are the exact techniques featured in mixed martial arts events that you've seen televized through the UFC and in numerous documentaries. But you don't have to travel the world to get this instruction. You don't have to wait outside the gates of the temple in the rain for days begging to be let in. This material is available to you right here, right now, in our safe, courteous and non-competitive dojo!
But what if I'm out of shape?
Real martial arts is for everyone! We have people who have never exercised in their lives who have come to our dojo and started on the path to better health. Regardless of what your physical condition, you'll see people just like you, all progressing at a pace just right for them.
The intention of the Masters of the arts was not to create a sport, or to train only those that were superior athletes. Their intention was to help everyone who wanted to truly learn. We have the good fortune of seeing people every week who have gotten out of shape, or have never been in shape, and help them to finally live the life of health and happiness they so richly deserve. No matter what your physical limitations, we have no higher purpose than to help you discover that you can do the martial arts and do them well.
1st: You will learn self-defense; skills that are effective regardless of your size, strength or gender.
2nd: You will create a stronger, more flexible, and healthier body.
3rd: You will learn to control your thoughts and emotions. This mindset will allow more of the good things you want to come into your life.
Here's a map:

But what if I am a great athlete?
Sometimes we are blessed with students who come to us who are terrific athletes. Some wonder, will I be able to be challenged and pushed to my limits too? Some are interested in getting involved in competition to test themselves. The reality is, if you are one of these lucky individuals, our dojo may be just right for you too. I've spent some time with some of the greatest Martial Athletes alive today. If you get them alone and ask them what they are looking for, they will tell you the same story. They'll tell you they want exactly what everyone else does. They want to be in a dojo that allows them to push themselves to the highest levels, but they also want the courtesy and atmosphere of real martial arts. These athletes may want to challenge themselves with physical competition, but they also realize that the dojo is a place where they can blend in and enjoy improving without ego trips. At our dojo we are lucky to have many of these wonderful athletes as students. While they have diverse backgrounds, they blend in and practice with everyone. I'm proud to say that these incredible athletes are some of the best and most gentle partners we have. You might find yourself meditating, learning , and practicing side by side with an MMA (Mixed Martial Arts in Toledo) fighter and not even know it!
Are we right for you?
Have you ever wanted to get in better shape, but traditional workouts just didn't seem right for you? Have you been interested in understanding meditation? Have you ever wanted to learn mixed martial arts technique but were afraid of getting hurt? Did you worry that maybe you wouldn't fit in, or be in good enough shape to participate? Do you have an old injury that you thought would prevent you from being able to do martial arts? Maybe you're just looking for that missing piece in your life, or that missing piece in your fitness plan. No matter who you are, or what your story, we've created a dojo for you.
You will learn the most advanced MMA technique available, but also you will experience what it's like to practice in the culture of a real dojo -- where etiquette and respect are the everyday norm. You will be taught authentic Martial Arts in the atmosphere, and with the intention of the Masters who created them. Self-Discipline, Self-Control, Courtesy, Patience and a strong Work Ethic are what it takes to be successful. These are the attributes our program will develop. Our martial arts in Toledo and Maumee include the most effective material ever created from the arts of karate, muay Thai kickboxing, Brazilian jiu-jitsu, kung fu, judo, aikido and more. Most important of all, you learn the martial arts in a culture of self-discipline and mutual respect.
Over the years, Ohio Martial Arts Center in Toledo Maumee and Monclova has helped students get in great shape, learn self defense, and we have taken martial arts practice back to its roots – to help you focus your mind. Hundreds of students pass through our doors every week to learn how to live more peaceful and meaningful lives through the practice of martial arts.
Ready to get started?
Sample us with our Introductory Course.
Here's what you get:
You will learn two practical self defense skills you will carry with you for the rest of your life

You will have two fun and enjoyable workouts.

You will feel and improvement in your range of motion in just two lessons.

Kids (in our separate children's class) will improve their focus and have a blast!
To find out how to register just click the black box below that says "GET STARTED".
I can't wait to meet you in person!
Sensei Joseph Hurtsellers
Click here to give us a test drive.